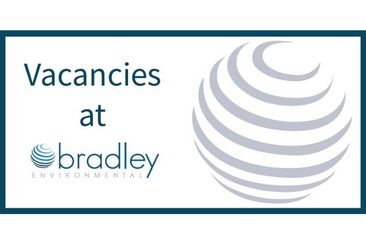 The following vacancy is being offered by UKATA member Bradley Environmental Consultants Ltd.
Bradley Environmental Consultants Ltd is excited to announce that as a result of their continued success delivering asbestos removal project management services, they are looking to recruit an experienced, professional and dynamic Asbestos Removal Project Manager to join their team.
The role, which could be home-based, or based at their Halesowen, Ossett or Blackpool office, will focus on co-ordinating and managing asbestos removal works for a wide range of clients throughout the UK, as well as working closely with their Sales and Marketing Team and existing Technical Management.
Roles and Responsibilities
To maximise opportunities to upsell asbestos remedial work from existing business (i.e. feedback and reports from our surveyors, analysts and consultants).
To help drive new asbestos removal business, working closely with our Sales and Marketing Team.
To achieve pre-agreed sales targets, the value of which you will have input into creating.
To attend site to view potential works, offering customers first-class advice and consultancy including robust asbestos removal specifications, where appropriate.
To build and maintain relationships with new and existing customers and selected Licensed Asbestos Removal Contractors.
To manage a small team of Asbestos Removal Technical support officers who are responsible for dealing with day to day enquiries, project planning and staff deployment, throughout the UK.
To manage the tender process on behalf of customers to efficiently procure asbestos removal works on their behalf.
To prepare monthly analytics on all removal works taking place throughout the UK.
Person Specification
The ideal candidate will:
Have a strong commercial background and at least 5 years' experience in the asbestos removal and/or consultancy sector.
Be able to demonstrate an excellent working knowledge of health and safety legislation and asbestos-related guidance notes, including appropriate qualifications.
Have a strong customer focussed work ethic, an exemplary professional attitude and be able to demonstrate excellent organisational skills.
Have exceptional oral communication skills and be capable of writing clear, well presented and accurate Project Completion Packs.
Have a keen eye for detail and be able to review documentation such as risk assessments, method statements, ASB5 notifications etc.
Be able to adopt a flexible approach to their working hours. Early starts, late finishes and occasional weekend working may be required and the ideal candidate will understand that travelling is an essential part of the role.
Hold a full UK driving license.
Be competent at using Microsoft Office.
Be willing to provide an enhanced DBS disclosure, the cost of which will reimbursed by the company.

What can we Offer
A Work-Life balance guarantee.
A competitive salary between £32,000 and £40,000, based on qualifications, industry experience and contacts within the industry.
A company vehicle which is available for private use (personal mileage charges recouped from payroll, each month).
A commitment to create and drive a bespoke Personal Development Plan, formalised by annual appraisal.
Industry-leading overtime remuneration policy, including paid travel time.
22 days' annual leave per annum (which rises to 25 after 3 years and 27 days after 5 years), plus 8 statutory bank holidays.
Company-paid Healthcare and Wellbeing plan with Simplyhealth (long service award applies at 3 and 5 years).
Auto-enrolment into a company pension with Aegon, into which the company will contribute 3% of qualifying earnings.
2 weeks contractual sick pay after 6 months of continuous service (rising to 4 weeks per annum, after 1 year of continuous service).
The successful candidate will also be given the opportunity to undertake further professional qualifications and to develop their role within the company.
Published on Thursday 25th November 2021