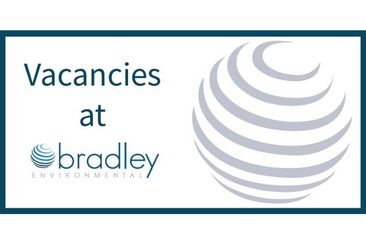 The following vacancy is being offered by UKATA member Bradley Environmental Consultants Ltd.
Bradley Environmental Consultants Ltd are excited to announce that as a result of the continued support they have been offering to key clients during the Covid-19 pandemic and the continued success of their teams nationally, they are currently recruiting for an Office Administrator at their head office in Halesowen.
If you are interested in a rewarding career working for a highly respected, growing, successful and established nationwide company, with over 30 years' trading experience, this is a great opportunity for you.
Roles and Responsibilities:
The role involves the production and formatting of survey reports and the interpretation of technical data, data input, liaising with Technical staff and the use of AutoCAD to create drawings of site plans.
Person Specification:
The successful candidate must possess a proven and proficient working knowledge of Microsoft Office 2010. Excellent customer service skills is a must along with previous experience within an administrative role. The ability to work in a team as well as on own initiative is also required, as are accuracy and attention to detail.
Previous experience of AutoCAD would be an advantage (but not essential) as well as experience of a multi-site operation and liaison with field staff.
Industry and AutoCAD training will be given to the successful candidate.
What We Can Offer You:
The starting salary is £18,525.00 per annum and salary and this will increased to £19,012.50 once fully trained. Further increments will be rewarded with development also. Hours of work are 37.5, Monday to Friday 8.30am - 5.00pm.
In addition, the successful candidate will receive company paid healthcare (long service award applies), company pension into which the company contribute 3% of qualifying earnings, 22 days holiday (long service award applies) plus 8 statutory bank holidays and contractual sick pay after 6 months continuous service. There will also be an opportunity to gain nationally recognised qualifications.
For more information about the position, please visit the members website.
Published on Thursday 11th November 2021