Paul Cook
Erase Meso – The Only Charity Dedicated to Funding Research into Mesothelioma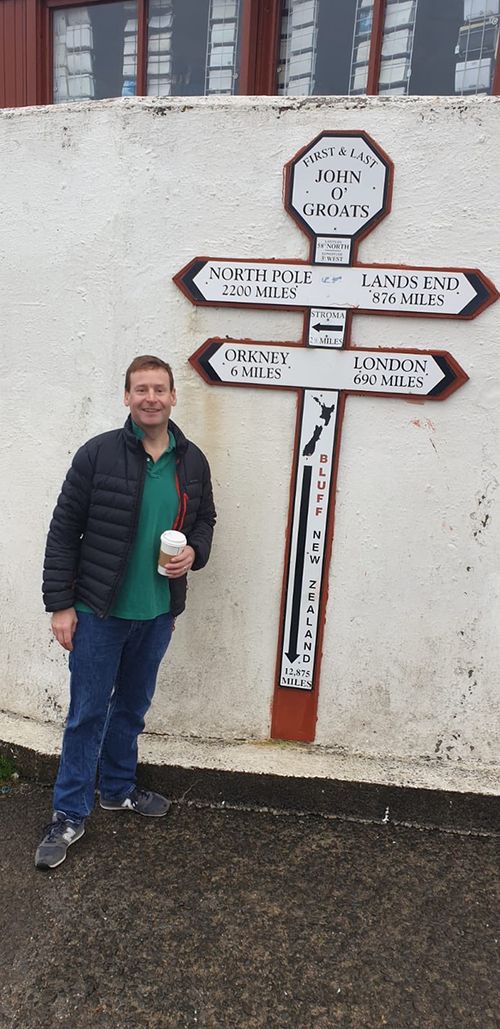 Erase Meso is one of a number of charities that the UK Asbestos Training Association (UKATA) supports. Set up by Paul and Jill Cook in 2019, the charity raised over £84,000 in its first six months.
Erase Meso differs from all other mesothelioma charities in that it raises funds purely for research purposes. Its aim is that one day mesothelioma will no longer be a death sentence, but a curable disease.
Here, we discover what drove Paul and Jill to set up the charity.
Paul Cook, a 43-year old father was a keen kayaker, kitesurfer, golfer, squash player, cyclist and diver at the peak of fitness when a bout of suspected flu hit. Like many, he continued working and delayed visiting a doctor, choosing to soldier on.
Paul's condition deteriorated and he was admitted to hospital with pneumonia. It was there the medical team discovered that he had a collapsed lung. Further investigations continued after immediate surgery to re-inflate the collapsed lung. Paul had never heard of mesothelioma before his diagnosis in November 2017 – malignant pleural mesothelioma.
Working in recruitment and similar office-based roles all his career, Paul had never worked in an environment that would be perceived as being at high risk for asbestos exposure. He has no idea where or when his exposure to asbestos occurred.
Paul was given a devastating prognosis of between 6-18 months to live, which tragically is the case with any late stage mesothelioma diagnosis as there is currently no cure. 55% of late stage mesothelioma diagnoses are fatal within the first six months, 40% within the following six months.
Determined to defy the odds, Paul's treatment began. He endured six rounds of three types of chemotherapy, a seven-hour surgery to remove the lung lining and 30% of his right lung, radiotherapy, lung drains and intensive rehabilitation. By June 2018, it was good news. The cancer was in remission.
Early on in his mesothelioma journey, Paul vowed that if he survived long enough, he would campaign to make a difference in the world of mesothelioma - to raise awareness, to raise funds for research to erase meso. In 2019, after just months of remission status, Erase Meso was officially launched.
Investment into mesothelioma research is severely underfunded. The UK has the highest incidence of mesothelioma in the world with over incidence of mesothelioma in the world with over 2,500 deaths per year.
Fundraising began with no small challenge – a group of 15 amateur cyclists, including 'Meso Warriors' Paul Cook and Nigel Shaddick, cycled from Land's End to John O'Groats in just 10 days, raising over £50,000 for the charity along the way.
Nigel (51) is also battling mesothelioma and has taken part in a new drug trial carried out at Edinburgh University. His doctors are amazed at his response and cite his cycling as "very helpful" in his fight against his tumour.
As well as the epic LEJOG bike ride, there have been numerous fundraising events including the Erase Meso Ball. In its first six months registered as a charity, Erase Meso raised more than £84,000 specifically for the funding of further scientific research into the treatments and eventual cure for mesothelioma. There is lots of very promising research taking place in the world of mesothelioma. Research is currently underway to find genetic changes that may cause mesothelioma. Other studies focus on finding specific blood markers that could help detect early-stage mesothelioma. Blood markers are substances found in higher than normal amounts in the blood of someone with cancer.
Researchers are also evaluating new treatments for mesothelioma, including several promising new drugs, gene therapy, new methods of radiation therapy, and immunotherapy. Immunotherapy is designed to boost the body's natural defences to fight the cancer. It uses materials made either by the body or in a laboratory to improve or restore immune system function.
The research, however, cannot continue without funding. Charities such as Erase Meso give hope to Meso Warriors, their friends and family every day.
Published Jan 2020
If you are able to donate, fundraise, or help in any way, please visit the charity's website at erasemeso.org.