Contamination Expo Series 2019 - 11th and 12th September - NEC, Birmingham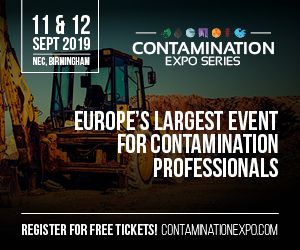 The Contamination Expo Series 2019 is due to take place 11th and 12th September 2019 at the NEC in Birmingham. This is Europe's leading exhibition for contamination professionals, and UK Asbestos Training Association is excited to announce that they will be exhibiting at next year's event, for the fourth year.
September 2018 saw an astonishing record-breaking attendance from those with concerns about asbestos. From Asbestos Solution Providers, Contractors, Management Firms to Local Authorities, over 3,000 senior decision makers came through the doors of the NEC actively seeking new business opportunities.
You can register for your complimentary ticket now at www.contaminationexpo.com.
---
If you're unfamiliar with the Contamination Expo Series, it is completely unique and unlike anything else in the sector. The show features:
120 CPD-accredited seminars led by industry-leading experts.
Over 150 innovative suppliers and influential organisations.
Unparalleled opportunities to network with 3,000 contamination professionals from across the globe.
Live demonstrations of innovative products
1-2-1 advice from industry-leading experts
Revealing real-life case studies.
Access to four co-located environmental shows – Recycle and Waste Management Expo, Flood Expo, Future Resource Expo and Marine & Coastal Civil Engineering Expo.
Over 20,000 environmental professionals across the five exhibitions!
Complimentary tickets are in limited supply, register for yours now to guarantee your place.
---
Speakers
Wayne Bagnall – Asbestos Packers in Reinforced Concrete
Wednesday, 11th September, Keynote Theatre 20 11:45 - 12:15
Wayne operates a specialist asbestos and demolition safety consultancy; Wayne Bagnall Consulting with a small team providing advice, training and support to ensure safe and cost-effective projects.
In the 1970's Wayne studied Chemistry & Biochemistry for five years attaining a City & Guilds Full Technological Certificate equivalent to degree level. He continues his education in management and safety gaining Membership with the Chartered Institute of Management (MCMI), a qualified Demolition Engineer with the Institute of Demolition engineers (IDE) and a corporate Membership with IOSH. In 2000, Wayne was one of the first four people to be awarded a master's degree in Construction (Health & Safety) Management at Liverpool John Moores University.
Wayne's presentation titled "Asbestos Packers in Reinforced Concrete" will discuss a case study of how these were discovered, classified and removed during the demolition of a 7 storey 1970's RC frame building."
Brad Luff – Fail to Plan, Plan to Fail
During a 30-year career in safety Brad has worked on several high-profile projects including the construction of Wembley New Stadium and being responsible for the safety at the Royal Artillery Barracks for London 2012 Olympic/Paralympic shooting events. The role was repeated 2 years later at The Commonwealth Games, again for the shooting events. As a qualified instructor running various safety courses, he has often noted that there is often a lack of attendees from both senior management and planning/tendering sectors, with training focusing on 'sharp end' personnel who carry out the work rather than those who plan the work. His key message is that issues are easier to fix at the 'planning' stage than the 'doing' stage.
Brad's presentation titled "Fail to Plan, Plan to Fail" will focus on the failure to consider all foreseeable risks during the planning/tendering stage of refurbishment and demolition projects so that planning how to deal with those risks fails. This leads to dealing with the situation, when it arises in a reactive, not proactive way. Brad will also discuss how people carrying out the planning process are often untrained in terms of those risks, especially asbestos.
Complimentary tickets are in limited supply, register for yours now to guarantee your place.