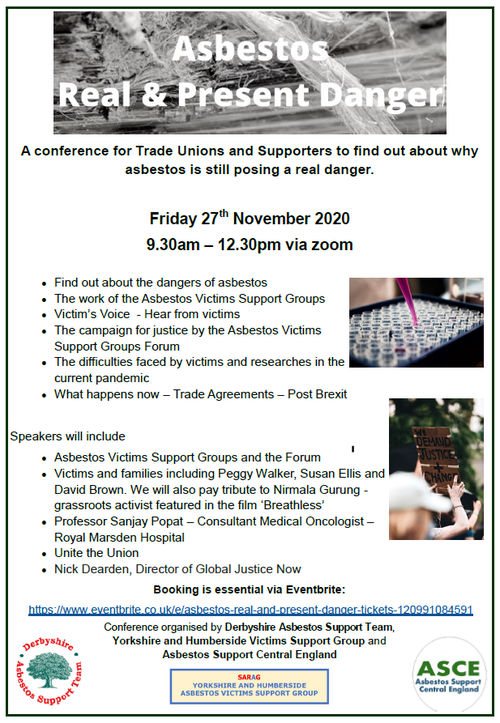 On Friday 27 November between 9:30am - 12:30pm on Zoom, Derbyshire Asbestos Support Team (DAST), Yorkshire and Humberside Victims Support Group (SARAG) and Asbestos Support Central England (ASCE) will be hosting the "Asbestos: Real & Present Danger Conference". A conference for Trade Unions and Supporters to find out about why asbestos is still posing a real danger.
During the conference delegates will discover:
The dangers of asbestos
The work of the Asbestos Victims Support Groups
The Victim's Voice - Hear from victims
The campaign for justice by the Asbestos Victims Support Groups Forum
The difficulties faced by victims and researches in the current pandemic
What happens now – Trade Agreements – Post Brexit
Including this, delegates can expect to hear from speakers such as:
Asbestos Victims Support Groups and the Forum
Victims and families including Peggy Walker, Susan Ellis and David Brown. We will also pay tribute to Nirmala Gurung - grassroots activist featured in the film 'Breathless'
Professor Sanjay Popat – Consultant Medical Oncologist – Royal Marsden Hospital
Unite the Union
Nick Dearden, Director of Global Justice Now
To book your place, please see click here.