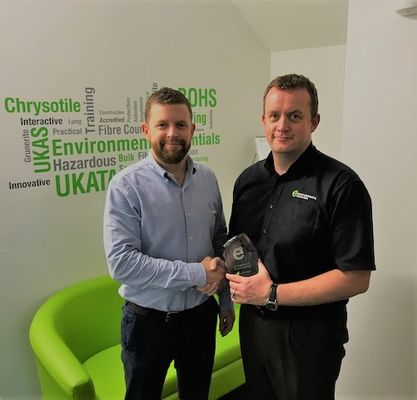 Environmental Essentials reward 10 years of service.
Staffordshire based Asbestos Consultancy Environmental Essentials have recently celebrated a host of staff anniversaries – with 12 members of the team recently reaching 10 years of service with the company.

Executive Director James Riley said "The foundation to the success of our business is down to the commitment of our colleagues, working together as a team. We are proud and passionate about our business and look forward to many more successful staff milestones to come."

To mark this occasion each individual received a £250 voucher, a commemorative plaque and a bottle of Champagne to help them toast the occasion.
Those reaching this significant milestone came from different areas of the business and from across the companies 6 regional offices. Some of those receiving their award include; Matt Farr, Resource Operations Manager, who said "Ten years has gone so fast. Its been a fantastic career choice working for EE and I was honoured to receive the award. Here's to the next 10 years!".

Also amongst those receiving this prestigious accolade was Rosie Greer, Training Coordinator, who said "It was a lovely surprise to receive the award for gaining 10 years' service, it made me feel really appreciated and a valued member of the team".

"Our colleagues reaching their 10 year service anniversary is a testament to the fantastic culture that has been developed over the years" said Philippa Maher, HR Manager "This culture has been developed through listening to our colleagues, rewarding them for the great job they do and constantly striving to achieve the values of the company".

As well as those celebrating their 10 year anniversary with the company, over a quarter of the team at Environmental Essentials have worked with the company for over 5 years. "We invest heavily in training our people and in staff communications" said recently appointed Managing Director Danny Kirbyshire "Not only do we appreciate and recognise those colleagues who have been here for such a large part of the companies 15 year history, we also like to mark the occasion of each anniversary as we believe that each anniversary is worth celebrating. Our aim is to be the most respected asbestos risk management provider and employer of choice within our industry".
Published on Thursday 15th November 2018