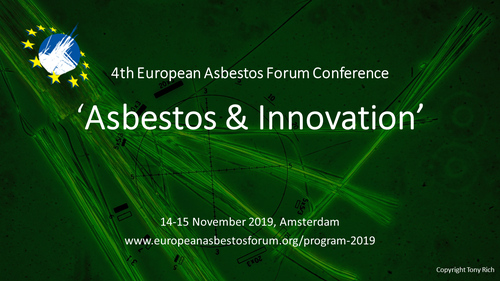 The European Asbestos Forum: join the international asbestos network for professionals
The European Asbestos Forum strives to improve professional networks and the exchange of the very best and newest knowledge on all matters related to asbestos. Across borders and sectors, available to everyone. Sharing the best innovations, the newest insights, the best practices. Learning from each other's mistakes and successes. At the exciting EAF conferences, you can truly learn more about asbestos and make useful new contacts to bring your own work to a higher level.
While the EAF is focused on professionals, asbestos victims organisations are welcomed, too. Because asbestos diseases are preventable. It is up to the professionals of today to ensure that there will be no future asbestos victims, that everybody lives in a safe house and works in a safe workplace.
4th conference of the European Asbestos Forum: 'Asbestos & Innovation'
On the 14th and 15th of November 2019 respectively, the EAF will organise workshops and its 4th international conference on the topic ' Asbestos & Innovation'. Venue: the Van der Valk Hotel Oostzaan in Amsterdam, twenty minutes by taxi from Schiphol Airport.
---
Speakers
A wide range of global top speakers will discuss such topics as new and high-tech remediaton techniques, denaturation and – obviously – innovation. The Keynote Speech will be presented by professor Jukka Takala, the president of the International Commission on Occupational Health (ICOH): what is the social and economic impact of asbestos in society? Also professor Arthur Frank of Drexel University will explain what the true health dangers of asbestos exposure are.
More than twenty speakers from across the globe will fill you in on the latest state-of-the-art science, developments and best practice. For example: robotic microscopy on location or the means to finish illegal asbestos dumping forever. What really is asbestos? How can asbestos be safely denaturised and which of the various methods are ready for commercial reality? How can asbestos awareness be improved and made easily accessible? Practical relevance of the presentations is paramount.
Specifically for asbestos professionals across sectors and borders
The European Asbestos Forum Foundation is specifically meant to address the need for knowledge and networks of professionals, regardless of their specific background or location. If you have to deal with asbestos matters in any shape or form professionally, this is the conference for you.
Book EAF Conference 2019 tickets