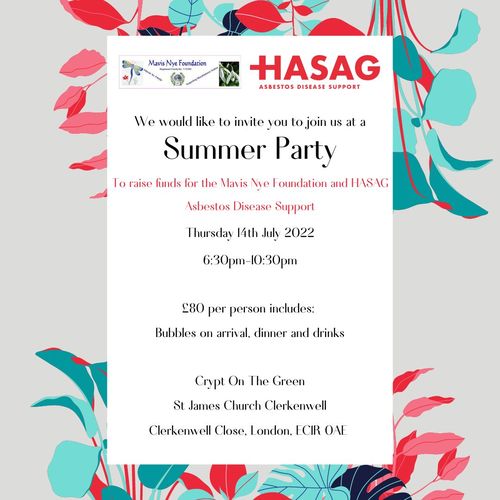 The Mavis Nye Foundation and HASAG Asbestos Disease Support would like to invite you to join them at their summer party on Thursday 14th July, 6:30pm – 10:30pm. All funds raised will be divided between both charities.
HASAG is a charity dedicated to helping people suffering from asbestos-related diseases and their families. They provide a complete source of help and support for anyone living in the South of England, the South East, London or the Home Counties who have been affected by asbestos.
The Mavis Nye Foundation was founded by Mavis Nye, a victim of Mesothelioma, in 2017 with the goal to:
Provide relief of financial hardship by providing aid to those persons in the UK requiring assistance to access medical treatment, in particular experimental medical treatment.
Help the advancement of laboratory and clinical research in the UK for the treatment of mesothelioma and other asbestos related diseases for the public benefit and the dissemination of the useful results of that research.
Assist in the treatment and case of persons suffering from mesothelioma in particular, but not exclusively, by awarding scholarships or grants tenable at any British university or institution of higher education for health professionals in financial need and endeavouring to work primarily in the field of mesothelioma nursing in the UK.
Tickets cost £80 per person which includes bubbles on arrival, dinner and drinks at Crypt on the Green, St James Church Clerkenwell.
To book your tickets, please email lynne@hasag.co.uk.
Published on Tuesday 21st June 2022
Date: Thursday 14th July 2022
Time: 6:30pm until 10:30pm
Location: Crypt on the Green, St James Church Clerkenwell