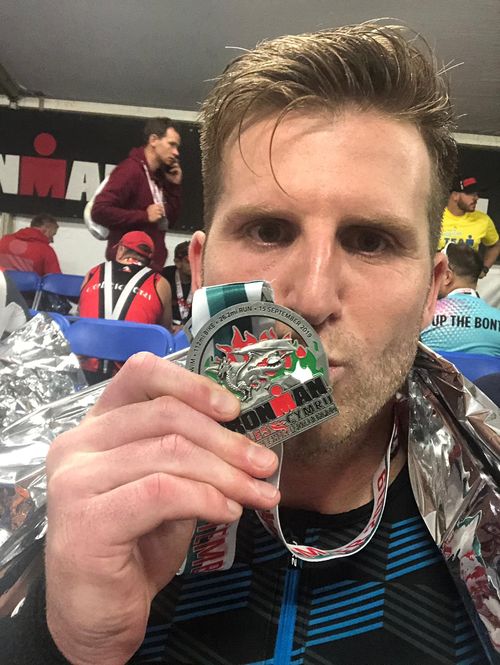 ​​​​​​​A huge congratulations to one of Essential Site Skills founding directors, Gareth Davies, for completing the Ironman Wales triathlon on 15th September. Gareth completed all 140 miles of the challenge in an incredible 15 hours, raising over £1100 for mesothelioma thus far to support charity, the Mavis Nye Foundation, in the process.
This has been a long and hard journey for Gareth. In order to complete this herculean task, he has undergone months of arduous training, but it has all been worth it to support a cause close to his heart. He hopes that this achievement will raise awareness of the dangers of asbestos and mesothelioma and provide vital funds to help support victims of the disease.

Ironman Wales is regarded as one of the toughest endurance races in the world with a 2.4 mile swim, 112 mile bike ride and a 26.2 mile run all in one gruelling day of competition. Starting at Tenby's North Beach at 7:12am in the morning, Gareth finished in the top 1,500 of racers, coming 250th in his age category.
The money raised will help support the Mavis Nye Foundation to begin a range of different grants aiding those affected by the disease and furthering research into prevention and treatment of the condition. They aim to provide financial grants to aid newly diagnosed victims of mesothelioma, along with grants for research labs to pursue the development of new drugs and supporting young university students to become mesothelioma doctors.
Once he got his breath back, Gareth said it was a hugely rewarding experience, with a brilliant atmosphere on the day and a great sense of accomplishment. He is incredibly proud of the money he has raised for this important cause and would like to thank everyone that sponsored and supported him.
Well done Gareth!
If Gareth's remarkable feat has inspired you to support the Mavis Nye Foundation you can still sponsor him here
Published on Tuesday 19th November 2019