Corporate Associate, SMAS Worksafe, are delighted to announce their new membership plan structure which will help applying companies to easily identify what level of compliance and support they wish to obtain, including the pricing and benefits for each.
Their new three-tiered systems start with Worksafe Assessment, which includes the standard SSIP assessment as well as a Worksafe PQQ profile.
The next level of compliance is Worksafe Pro, which includes a policy template, an IEMA environmental review and an IRCA quality review.
The final and highest tier is Worksafe Infinity which includes all the above as well as action plans, helpline access, tailored policies provided and a mid-year review.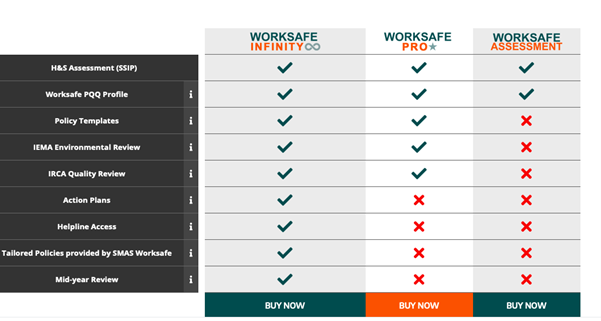 Member Benefits:
Worksafe PQQ Profile
Access to additional areas such as environmental and quality management with the ability to self-upload your documents.
Policy Templates
Pre-written templates are available for both modern slavery and anti bribery policies.
IEMA Environmental Review
An IEMA qualified professional from SMAS Worksafe will review your environmental management approach to ensure that you meet the required standards.
IRCA Quality Review
An IRCA qualified professional from SMAS Worksafe will review your quality management approach to ensure that you meet the required standards.
Action Plans
They will look to understand how well you are meeting your obligations as a supplier and make recommendations on areas of improvement, whilst helping you to avoid any financial or legal implications as well as win more work with clients.
Helpline Access
On-demand advice and support around all areas of your SMAS Worksafe membership including environmental.
Tailored Policies Provided
SMAS Worksafe will review your business activities and produce a set of bespoke policies and procedures that are compliant with IEMA and IRCA that you can implement in your business, saving you both time and money.
Mid-Year Review
After 6 months, SMAS Worksafe will contact you to see how you are progressing with your policies and procedures ensuring you become a more reliable supplier and helping your people consistently deliver great service.
If you are interested in further information, please contact SMAS Worksafe here.