The UK Asbestos Training Association (UKATA) announced today that it has been shortlisted for the Senior Leadership Engagement Award, which recognises the efforts of Chief Operating Officer, Craig Evans, and Senior Operations Manager, Debbie Nixon. The Impact awards hosted by charity Mates in Mind, will take place virtually on 27th May 2021, where the winner will be announced.
The Impact Awards were open to SME, large size organisations and projects who have shown inspirational leadership that has made a meaningful impact on the understanding and support for mental health amongst its workforce, as well as across their industry more broadly.
"Being shortlisted for the Senior Leadership Engagement Award demonstrates the tightknit relationship between Debbie and myself. Working alongside one another for almost 10 years, has strengthened our partnership and undeniable rapport. It's an honour to be recognised with my longest serving employee " said Chief Operating Officer, Craig Evans.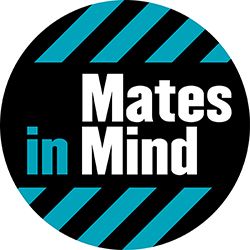 Mates in Mind is a registered UK charity raising awareness, addressing the stigma of poor mental health and promoting positive mental wellbeing across workplaces, helping to make sense of available options and support employers to address mental health within their workplace.
Each year Mates in Mind hold Impact Awards to celebrate their Supporters contributions to improving mental health within their workplaces and across the wider sector. The awards are an opportunity to highlight the impact of both large and SME organisations across the UK, as well as acknowledging individuals who have championed the development of mentally healthy workforces.
Established in 2008, UKATA is a highly respected, leading authority on asbestos training. Our passion is to both maintain and improve asbestos training, ensuring the highest standards are upheld by means of continually monitoring UKATA training provided by our members.
UKATA continuously works within current legislation as a minimum, whilst collaborating with industry partners to ensure that the UK has the highest standards of asbestos safety.
UKATA freely shares knowledge and information both on our website and across social media, demonstrating that education remains our top priority.
To find a UKATA approved asbestos training provider near you, visit www.ukata.org.uk or for free advice call our team on 01246 824437.
Find a Training Provider