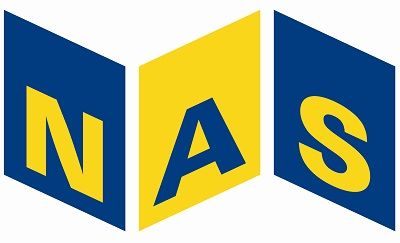 UK Asbestos Training Association (UKATA) are proud to announce we have formally joined in partnership with the National Association of Shopfitters and Interior Contractors (NAS) with the aim to upskill NAS members in asbestos and asbestos training.
Celebrating their centenary in 2019 and accumulating nearly 200 members, the NAS promote, support and develop their members in the shopfitting, fit-out and interior contracting sector.
With 'shopfitting' identified by the HSE as one of the 17 occupations that is likely to disturb Asbestos Containing Materials (ACMs), the NAS has become a Corporate Associate of UKATA, with the joint aim to raise awareness of the legal requirement for asbestos training.
Addressing both the law and one of the industry's biggest killers – asbestos, the 100-year old's trade association's partnership with one of the leading authorities on asbestos, will give NAS members access to industry-leading UKATA-approved asbestos training, including the industry-recognised asbestos awareness course.
This training will enable NAS members and their employees to correctly identify potential asbestos hazards in buildings and mitigate the risk to themselves and building users.
NAS Director James Filus and NAS President Marc Allen welcomed the partnership saying: "We are delighted to have been welcomed by UKATA as a Corporate Associate in recognition of the NAS' work to promote both asbestos awareness, safety, and training.
"We believe this relationship, which also sees UKATA becoming a partner of the NAS, will be mutually beneficial for both parties as well as the sector as a whole. The subject of asbestos awareness is a critically important one across construction and is fully supported by the NAS. Both the NAS and UKATA work closely with Dr Mavis Nye of the Mavis Nye Foundation."
Becoming a UKATA Corporate Associate is strictly by invitation only to like-minded associations, charities and not for profit organisations, professional and industry registers. It actively demonstrates NAS' commitment and support to continued improvements and developments within the asbestos industry.
One of the main reasons identified for the rise in asbestos-related diseases is because of a lack of awareness of the dangers, says UKATA.
As part of the partnership UKATA is urging every NAS member to ensure they undertake the appropriate level of asbestos training relevant to their role.
Craig Evans, UKATA Chief Operating Officer, explained: "Too many tradespeople expose themselves to asbestos unknowingly because of a lack of awareness of the material. Attending a simple half-day asbestos awareness course could potentially save the lives of NAS members and users of buildings in which they work. However, for those workers who are planning work that will intentionally disturb asbestos fibres, then a higher level of asbestos training will be required.
"Through the NAS/UKATA partnership, we will be actively encouraging members to attend one of the courses."
For more information about the NAS and what they do, please click here.