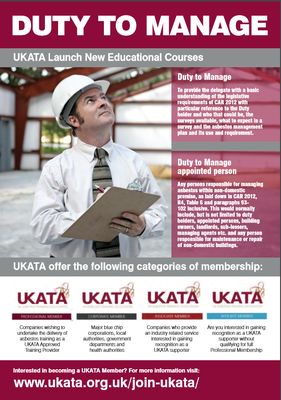 UKATA announces two new educational courses
Duty to Manage course will provide understanding of managing asbestos
The UK Asbestos Training Association (UKATA) has announced the introduction of two new courses. The Duty to Manage and Appointed Persons courses complement one another and are intended to provide delegates with the understanding, theoretical and practical skills to undertake the management of asbestos.
As well as covering the skills needed to manage asbestos, the courses aim to teach those attending the need for an asbestos management plan and the vital uses it brings. Taken together, the courses are designed to decrease the danger of asbestos risk for those who may come into contact with the substance. UKATA General Manager Craig Evans says these courses will prove invaluable not only to building owners but a host of other individuals and groups as well.
"We're extremely excited about the launch of these courses," said Craig. "The potential they offer in terms of education and management is vital, while other big positives are the scope of audience who could benefit. Facility managers, duty holders, building owners, managing agents, landlords and sub-lessors can all take something from these courses which can only benefit us all going forward when it comes to battling asbestos." These courses will also ensure the people responsible for the "Duty to Manage in Non-Domestic Buildings", as required in the Control of Asbestos Regulations 2012, Regulation 4, will be fully aware of what they have to do and how to achieve this sometimes difficult matter.
Duty to Manage and Appointed Persons are open to all UKATA Professional Members, but applicants must be able to prove compliance with the syllabus by way of material verification which includes a course assessment and exam.
The main objective of the Duty to Manage course is to provide the delegate with a basic understanding of the legislative requirements of the Control of Asbestos Regulations 2012 (CAR), whilst the Appointed Person syllabus aims to provide the theoretical and practical skills to undertake the management of asbestos containing materials within the building they are responsible for as defined in CAR 2012.
Complete with a presentation, handouts and informative documents, the courses are vital and a must for anyone managing asbestos.
"It's vital that we treat asbestos with the same level of danger it presents to us all," said Craig. "Asbestos often looks harmless and cannot be definitely identified just by looking at it, so these courses are another progressive step forward in the fight to spread awareness of asbestos and remove the dangers it presents," he concluded.
UKATA is the leading authority for asbestos training provision in the United Kingdom. Tasked by the HSE in 2008 to manage the licensed asbestos training providers, UKATA has gone from strength to strength and now has more than 180 member organisations from all corners of the UK.
Media Enquiries:
Victoria Castelluccio, Marketing Officer
victoria.castelluccio@ukata.org.uk
01246 824437