Throughout the month of November 2023, UKATA pledge to raise awareness of lung cancer, in conjunction with Lung Cancer Awareness Month.
Lung Cancer Awareness Month is a campaign designed to encourage individuals to visit their GP if they are experiencing any of the symptoms of lung cancer. There are usually no signs or symptoms of lung cancer in the early stages. Symptoms develop as the condition progresses.
The main symptoms of lung cancer include:
a cough that does not go away after 3 weeks
a long-standing cough that gets worse
chest infections that keep coming back
coughing up blood
an ache or pain when breathing or coughing
persistent breathlessness
persistent tiredness or lack of energy
loss of appetite or unexplained weight loss
Less common symptoms of lung cancer include:
changes in the appearance of your fingers, such as becoming more curved or their ends becoming larger (this is known as finger clubbing)
difficulty swallowing (dysphagia) or pain when swallowing
wheezing
a hoarse voice
swelling of your face or neck
persistent chest or shoulder pain
Early diagnosis is key to boosting survival rates, but not enough people are taking their symptoms seriously until it is too late. This awareness month is also the time to pay attention to the experiences of those with lung cancer and their families and showing that they have support and encouragement from those involved in their care.
Lung Cancer Statistics - © Cancer Research UK

Statistics from Cancer research show there are over 48,500 new lung cancer cases in the UK every year, that's more than 130 every day (2016-2018).
Lung cancer is the 3rd most common cancer in the UK, accounting for 13% of all new cancer cases (2016-2018).
UKATA urges workers to be aware that certain work activities, such as exposure to asbestos, mild steel welding fume and heavy and prolonged exposure to silica, can cause lung cancer and other serious respiratory diseases.
Asbestos is a naturally occurring material and was regularly used in buildings from the 1950s until the late 1990s. It can still be found in many buildings built or refurbished before the year 2000, including domestic and non-domestic premises.
Inhalation of asbestos fibres can cause cancers such as mesothelioma and lung cancer, and other serious lung diseases such as asbestosis and pleural thickening.
2,268 mesothelioma deaths in 2021, with a similar number of lung cancer deaths linked to past exposures to asbestos.
Asbestos is the biggest occupational disease risk to construction workers. Asbestos can cause two types of cancer:
Mesothelioma – a cancer of the lung lining. It is always fatal and is almost exclusively caused by exposure to asbestos.
Asbestos-related lung cancer – this is almost always fatal.
Occupational Lung Diseases Contributing to Estimated Annual Current Deaths - © HSE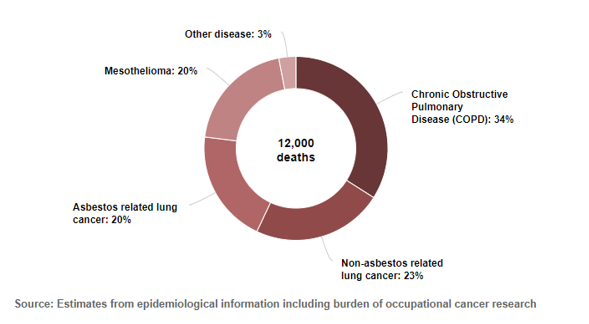 Speaking on the campaign, Craig Evans, UKATA Chief Operating Officer said: "The latest HSE annual statistics, show that there are an estimated 12,000 occupational lung disease deaths each year, asbestos-related lung cancer deaths make up 20% of this figure. Mesothelioma, another form of asbestos-related cancer, makes up an additional 20%.
Unlike mesothelioma, lung cancer can be cured, and it is vital that individuals see their GP if they are showing symptoms.
It is essential that everyone who may come across asbestos in their day-to-day work undertake 'Asbestos Awareness' training as a minimum to help keep themselves and others around them safe."
UKATA, a leading association, is dedicated to enhancing the quality and standards of asbestos training with the aim to shield workers and the public from the hazards of asbestos exposure.
The association collaborates closely with its members to guarantee that they have access to the latest information, training resources, and industry updates. They provide a suite of support services to assist them in accomplishing their training objectives. Their membership encompasses a diverse array of organisations involved in asbestos training, including training providers, asbestos removal contractors, consultants, and equipment suppliers.
UKATA is fervent about promoting safe and responsible working practices, committed to working with members and partners to realise a shared vision of protecting workers and the public from the hazards linked with asbestos exposure.
Get more information on the HSE website about:
Latest UK Cancer Statistics:
Find a Training Provider
Published on Wednesday 25th October 2023