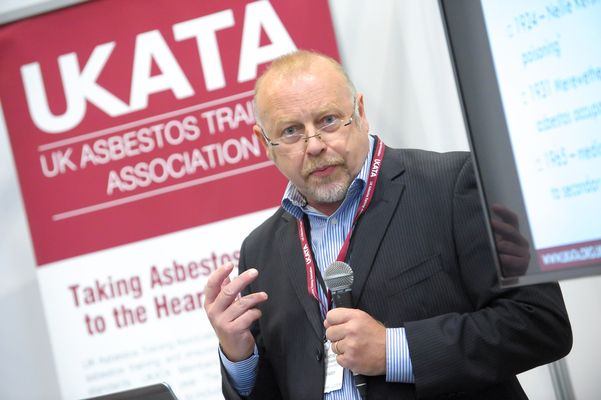 The Contamination & Geotech Expo is a unique 2-day event which connects industry professionals from all aspects of land, water and air contamination. It prides itself on presenting the most innovative solutions, technology & market leading products.
Insight and learning is high on the agenda with 7 specialised areas and a seminar programme full of expert-led sessions, panels and demos. Networking areas provide the opportunity for meetings or informal conversations.
UKATA Director Chris Bishop, will host a seminar on "Management of Asbestos in Soil and Made Ground" in the Hazardous materials theatre, Thursday 23rd September 11:00 – 11:30.
This seminar will provide delegates with an explanation of the properties of asbestos and its effects on the health of individuals, the types, uses and the visible manifestation of asbestos in soils and the understanding and interpreting soil reports. It will also highlight the general procedures that need to be followed in the event of an emergency and how to avoid the risks from ACMs in soil.
Key Takeaways:
Understand the types, uses and likely occurrences of asbestos in buildings and how the asbestos containing materials came to be within the ground/soils site.
Know what asbestos containing materials in the soils look like; and what are the risks/hazards likely to be.
Understand the key aspects of asbestos regulations and how they fit into the broader context of health and safety legislation.
Chris Bishop is an asbestos professional who has been in the industry for many years and has been an advocate for UKATA since it's inception. Chris is currently on the Board of Directors in his second term of office. Chris also represents UKATA on the HSE Asbestos Leadership Group as well as attending speaking engagements on behalf of the association.
Established in 2008, UKATA is a highly respected, leading authority on asbestos training. Its passion is to both maintain and improve asbestos training, ensuring the highest standards are upheld by means of continually monitoring UKATA training provided by our members.
UKATA continuously works within current legislation as a minimum, whilst collaborating with industry partners to ensure that the UK has the highest standards of asbestos safety.
UKATA freely shares knowledge and information both online and across social media, demonstrating that education remains their top priority.
To find a UKATA approved asbestos training provider near you, visit www.ukata.org.uk or for free advice call the team on 01246 824437.
Book free tickets today
Published on Monday 20th September 2021