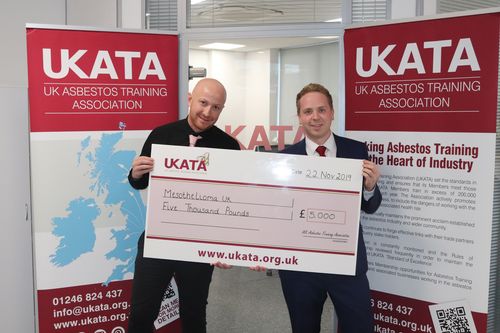 UKATA Donate £5,000 to Mesothelioma UK
Statistics from the Health & Safety Executive released in October 2019, reveal that in the UK more than 2,500 people die from mesothelioma each year, with a similar number of lung cancer related deaths, linked to past exposures of asbestos.
These statistics show that there are still cumulative over 5,000 asbestos related disease deaths per year, including mesothelioma, lung cancer and asbestosis.
With the UK having the highest mortality rate from lung disease in Europe, a decision was made during 2018 – 2019 for the UK Asbestos Training Association "UKATA" to become corporate partners with Mesothelioma UK, a national specialist resource centre specifically for the asbestos-related cancer mesothelioma.
The aim of the partnership was to to support the charity dedicated to providing specialist mesothelioma information, support and education, and to improving care and treatment for all UK mesothelioma patients and carers.
With the support from UKATA members, who provide approved asbestos training nationwide, the association was able to raise £5,000 to support people living with asbestos related cancer.
A cheque presentation ceremony was held at UKATA's head office in Chesterfield on 22 November 2019, with Guy Tewley, Corporate Fundraising Officer representing Mesothelioma UK.
"UKATA is a leading not for profit asbestos training association, raising standards in asbestos training throughout the industry. Our members train in excess of 200,000 delegates each year on the dangers of asbestos and how to work safely. The corporate partnership with Mesothelioma UK allowed us to further raise awareness of the risks associated to working with asbestos, at the same time, raising much needed funds to help support patients and families. The money raised by the UKATA team and members is a great achievement and I am very proud of everyone's efforts to support this great charity."

– Craig Evans, UKATA Chief Operating Officer
"It has been fantastic to have the opportunity to work with UKATA over the past year and the funds they have raised will help us to continue to support patients, families and achieve our goals. We look forward in continuing this great partnership and working together in the future!"

– Guy Tewley, Mesothelioma UK Corporate Fundraising Officer
Published on Thursday 2nd January 2020