Principally unveiled in June 2022, the UKATA brand refresh is now live!
This exciting revitalisation incorporates a new reinforced training certificate design and features reworked logos for UKATA members, industry associates and corporate partners.
These changes show the association's commitment to moving into the next generation and strengthening the relationships built with UKATA, its members and industry.
UKATA has spent considerable time researching and developing robust security methods to support the design and implementation of a new certificate, protecting the UKATA brand and its members.
With the new layout in portrait, as opposed to the former landscape design, the certificate now includes a QR code which can be scanned by a mobile device to validate authenticity, incorporates a licensed font and hosts many new security features making it unalterable, thus preventing fraudulent certificates.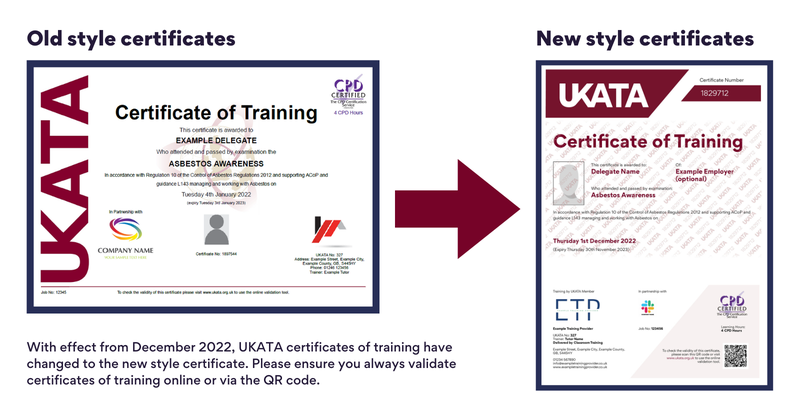 Speaking on the brand refresh launch, Craig Evans, UKATA Chief Operating Officer said:
"I am thrilled to say that our brand refresh, including a new training certificate design is now complete and launched. A great deal of work over the past years internally has been done to simplify and modernise the UKATA brand, moving us forward into a new era as we approach the association's 15th anniversary.
The security features implemented on the new certificate provides another level of confidence in UKATA's quality assurance for our members and the wider industry.
UKATA members, industry associates and corporate partners can now use the new logos on their website and promotional material, whilst training delegates will start to receive the new UKATA certificates from Thursday 1st December 2022"
Established in 2008, UKATA is a highly respected, leading authority on asbestos training. Its passion is to both maintain and improve asbestos training, ensuring the highest standards are upheld by means of continual quality assessment.
UKATA continuously works within current legislation as a minimum, whilst collaborating with industry partners to ensure that the UK has the highest standards of asbestos safety.
UKATA freely shares knowledge and information both online and across social media, demonstrating that education remains its top priority.
Published on Monday 28th November 2022