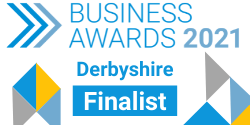 Today the UK Asbestos Training Association (UKATA) proudly announce they have been shortlisted as a finalist in the East Midlands Chamber Business Awards 2021 (Derbyshire, Nottinghamshire, Leicestershire) for Excellence in Customer Service.
The award recognises organisations with a focus on customer service and care. This award has been designed for businesses which can demonstrate excellence and a commitment to exceeding customer expectations. Winning this award would recognise the commitment of the team at UKATA, who provide the highest possible level of service in satisfying the requirements of their members.
East Midlands Chamber chief executive Scott Knowles said: "Last year's Business Awards provided a fantastic opportunity to celebrate some of the amazing success stories witnessed in the East Midlands during what was one of the most challenging years in memory for business.
"It was also a unique event in the history of the awards in that we held it online for the first time, but this in no way took anything away from three truly remarkable virtual ceremonies.
"While we don't quite know what 2021 will bring, we're braced for continued disruption followed by signs of recovery – and we can be certain that there will be many more examples of incredible innovation, growth and resilience among our members.
"These awards are a great opportunity to shout about what our region has to offer and the Chamber – along with our sponsors, whose continued support enables us these celebrations to happen – can't wait to read another set of high-quality entries."
This year's Business Awards are set to be a celebration of business and the resilience they have shown in the last 18 months.
Winners will be announced at the Gala Dinner in November, selected winners on the night will go on to the national British Chambers of Commerce awards.
Established in 2008, UKATA is a highly respected, leading authority on asbestos training. Its passion is to both maintain and improve asbestos training, ensuring the highest standards are upheld by means of continually monitoring UKATA training provided by our members.
UKATA continuously works within current legislation as a minimum, whilst collaborating with industry partners to ensure that the UK has the highest standards of asbestos safety.
UKATA freely shares knowledge and information both online and across social media, demonstrating that education remains their top priority.
To find a UKATA approved asbestos training provider near you, visit www.ukata.org.uk or for free advice call the team on 01246 824437.
Published on Monday 28th June 2021