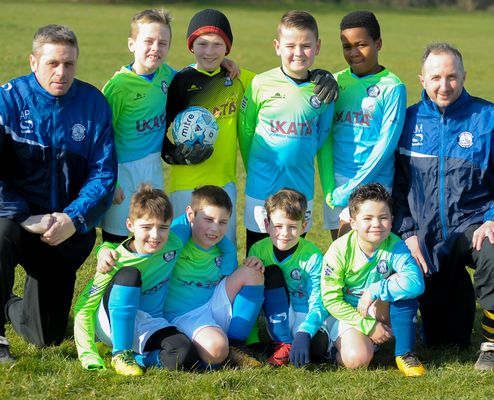 Local business backs Chesterfield Junior Blues for the season ahead
As part of celebrations to mark its ten year anniversary, The UK Asbestos Training Association (UKATA) is sponsoring the Chesterfield Junior Blues under-8 Jaguars football team, for the season ahead.
Based at Markham Vale, UKATA is keen to continue its work within the local community.
The Association has a history of supporting Chesterfield junior sports, having sponsored Staveley Miners Welfare FC under-9's back in 2015. This time, UKATA is sponsoring the Jaguar's team training jackets and away tops, which will be seen for the first time at the forthcoming match on 24 February at Highfield Park, Staveley.
"When Jaguars team manager Adam Pitchford approached us looking for help, we were delighted to offer our support," said UKATA General manager Craig Evans. "UKATA is committed to playing a role in the local community in which we work, while promoting Chesterfield as a great place to do business too. Working with junior sports underlines that we do more than pay lip service to our obligations in terms of Corporate Social Responsibility (CSR). We all wish the Jaguars all the best for the season ahead in the Rowsley League."
Founded in 2002 by former Chesterfield FC legend and Football in the Community Officer Andy Morris (Bruno), (a Spireites hero thanks to the '97 cup run and for scoring the club's first goal at Old Trafford), Chesterfield Junior Blues comprises several teams in the Rowsley and District League.
"As we mark our tenth anniversary this year, 2018 is milestone for UKATA," added Craig. "We started by taking on three local young apprentices and sponsoring the Jaguars is a great addition. Our focus is the importance of asbestos awareness training and football sponsorship is a great way for UKATA to get our name in front of some of the sole traders at risk of asbestos exposure it is important we reach out to."
UKATA is the leading authority for asbestos training provision in the United Kingdom. Tasked by the HSE in 2008 to manage the licensed asbestos training providers, UKATA has gone from strength to strength and now has over 180 member organisations from all corners of the UK. For further information visit www.ukata.org.uk or call 01246 824 437.