UKATA Staff to Undertake Skydive in May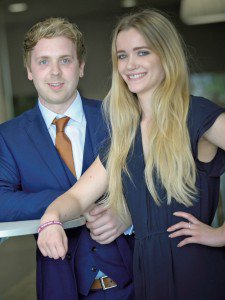 Craig and Sasha to complete dive for British Lung Foundation.
Two intrepid members of the UK Asbestos Training Association (UKATA) have announced that they are to embark on a charity sky dive on Saturday 28 May. General Manager Craig Evans and Sasha Brailsford, who is responsible for the firm's social media output, will jump from 12,500 feet at Langar airfield in Nottinghamshire in aid of the British Lung Foundation.
Craig and Sasha are hoping to raise at least £2,000 and with the running total at £520 already, the duo are well on target. Anyone who wishes to help Craig and Sasha can do so by visiting their JustGiving page at: https://www.justgiving.com/UKATA-Official1 If UK taxpayers GiftAid their donation, it makes a big difference and ensures that the British Lung Foundation receives the maximum amount possible.
"I have done a few sky dives before now, so I'm not as nervous as I was the first few time around, said UKATA General Manager Craig Evans. "I am just raring to go now! I'm not sure Sasha's feeling quite as calm as I am, but it is all for a great cause. UKATA has been supporting the British Lung Foundation for some time now. The main consequence of asbestos exposure is mesothelioma, a cancer for which there is no cure so it is really important to everyone here at UKATA to continue to support the valuable work the charity undertakes."
The skydive continues the ongoing relationship between UKATA and the charity, with over £3000 raised already and a commitment to donate 2p from every UKATA certificate raised to the British Lung Foundation to assist with research and further projects. The British Lung Foundation is 'the only charity in the UK looking after the nation's lungs'. They do vital research into lung disease and its causes, including things like asbestos, smoking and pollution. The ultimate aim of the charity is for everyone to be able to breathe clean air through healthy lungs. Their work is comprised of both research and support, meaning they are both preventative and reactive to lung disease.
As well as asking for support from friends and family for donations, Craig and Sasha hope to see UKATA members getting involved: "UKATA members know more about the dangers of asbestos than anyone and they have been hugely supportive of our work with the British Lung Foundation to date. Sasha has been working really hard and we've already seen several generous contributions from within the office. Now it's time to extend our hunt further, both to our members and the public at large. Every penny helps and it truly is such a worthwhile cause," added Craig.
UKATA is the leading authority for asbestos training provision in the United Kingdom. Tasked by the HSE in 2008 to manage the licensed asbestos training providers, UKATA has gone from strength to strength and now has more than 180 member organisations from all corners of the UK.
Media Enquiries:
Victoria Castelluccio, Marketing Officer
victoria.castelluccio@ukata.org.uk
01246 824437