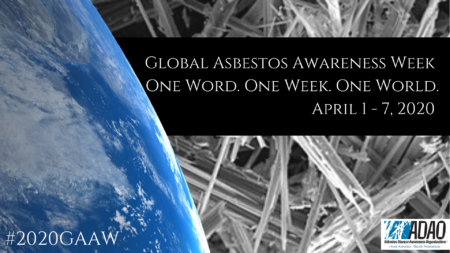 Global Asbestos Awareness Week takes place between 1 – 7 April annually. The aim of the upcoming week is to raise awareness around the dangers of asbestos and to also bring experts and victims together from around the world to share, learn and take action.
Despite the UK ban, asbestos is still legal in many countries, such as Russia, China and India, regardless of the health risks.
The most recent HSE statistics show that in the UK there were over 5,000 asbestos-related deaths in 2017, with 2526 being attributed to mesothelioma and a similar number of lung cancer deaths.
UKATA Chief Operating Officer, Craig Evans said "We still have a long way to go to tackle the global issue. Asbestos was banned in the United Kingdom in 1999, but over 1.5 million buildings in the UK alone may still contain asbestos. It's crucial that we spread and raise awareness around the dangers of asbestos to hopefully lower the number of deaths"
Global Asbestos Awareness Week (GAAW) is dedicated to educating people about both the risk of asbestos and how to manage it in order to prevent asbestos-caused diseases. While promising research continues, prevention to exposure remains the only cure. This week is about delivering that power: we seek to equip people with the tools they need to protect themselves while we work for preventative legislation and a cure.
Linda Reinstein, President/CEO of the Asbestos Disease Awareness Organization (ADAO) says "It is exciting to see the global community unite and collaborate for Global Asbestos Awareness Week. Thank you for joining us during this week of learning and community!"
UKATA is a leading authority on asbestos training. To find a UKATA approved asbestos training provider near you, visit www.ukata.org.uk or for free advice call our team on 01246 824437.