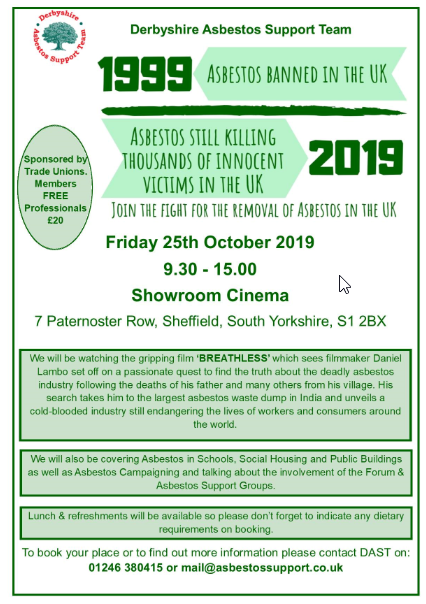 This year marks the 20th anniversary of the UK ban on asbestos. Since 1999, it has been illegal to use or import asbestos, to the benefit of everyone's long term health.
The anniversary is to be marked with an event hosted by Derbyshire Asbestos Support Team (DAST) and Sheffield and Rotherham Asbestos Group (SARAG) taking place 25th October 2019 at the Showroom Cinema, Sheffield on the border of the two regions.
The gripping film BREATHLESS which sees filmmaker Daniel Lambo set off on a passionate quest to find the truth about the deadly asbestos industry following the deaths of his father and many others from his village will be shown along with discussions on asbestos in schools, social housing and public buildings, as well as asbestos campaigning.
Lunch and refreshments will be available.
UKATA Representatives will be on hand to assist with any asbestos training enquiries and to offer their support to the organisers.
Booking is essential: If anyone is wishing to join the event they can book their place by emailing: Joanne Gordon (DAST) or by calling on 01246 380415.
Find a Training Provider
Published on Friday 25th October 2019