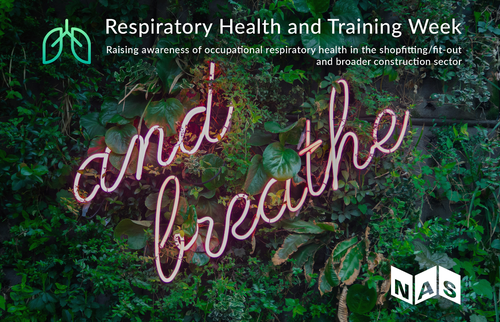 The UK Asbestos Training Association (UKATA) joins the National Association of Shopfitters and Interior Contractors to raise awareness of construction related respiratory occupational health diseases during their Respiratory Health and Training weeklong campaign (raising awareness of occupational respiratory health in the shopfitting/fit out and broader construction sector). Mon 07-Fri 11 June 2021.
Asbestos is considered safe if not disturbed, however the lack of awareness of the dangers by users of buildings has turned it into one of the biggest threats to human health in recent years.
Any person who may potentially come in to contact with asbestos in their day-to-day work, including shopfitters, carpenters, joiners, plasterers, architects, and surveyors to name but a few, must legally receive the correct level of information, instruction, and training. Asbestos awareness training is intended to help workers avoid carrying out work that will disturb asbestos containing materials.
However, for those workers who are planning work that will intentionally disturb asbestos fibres, then a higher level of asbestos training will be required.
UKATA training providers deliver asbestos training to circa. 200,000 delegates per annum, providing the opportunity to raise awareness of the risks associated to working with asbestos, including mesothelioma.
Mesothelioma is a type of cancer that develops in the lining that covers the outer surface of some of the body's organs. It is usually linked to asbestos exposure. The latest figures published by the HSE show over 5,000 asbestos-related disease deaths per year in the UK, including mesothelioma, lung cancer and asbestosis.
UKATA Director, Chris Bishop said: "The coronavirus pandemic has undoubtedly had a major impact on the way we live and work. The last year has seen a massive change in the way the UK goes about daily life, from increased working from home and the massive rise in online shopping.
The problem is that some of the hazards that we encounter in the workplace have not gone away, and still present themselves as real dangers to the workforce, particularly for those who are working in adapting, changing or refurbishment of premises. Asbestos did not disappear with the shutdown of the high street, there was no magic wand - it just sits there lying dormant.
When we have been vaccinated, developed herd immunity and the world has learned to deal with the virus, asbestos will remain as Britain's largest industrial killer and current figures indicate more than 5000 persons per year are dying from the mineral that was finally banned from use only 22 years ago. It certainly has not all been removed, and unlike Covid, there are no vaccines for the effects of asbestos.
Every week 20 tradesmen die from asbestos-related disease. In particularly, those trades most at risk include electricians, plumbers, heating and ventilation engineers, shopfitters, joiners, plasterers, and allied trades. Asbestos dust kills.
Just think, as a NAS member the likelihood of disturbing asbestos is high. Any building built before the year 2000 could contain it – and we know there are more than 18,000 examples of asbestos products and use. Think about where it could be and consider does it apply to me? If you are refitting out, changing the plumbing, heating, or electrics, altering the M&E system for heating etc, working on the shop front, the canopy etc, was asbestos used here?
What about the acoustic panels in the walls, the fire breaks in the ceilings and plenum systems?
What about those stud partition walls of the storerooms and offices? What about those insulating panels and anti-mould sections of the cold areas of the stores?
It is thought it could remain in up to 10 million buildings in the UK and anything up to 1.5 million public, retail, industrial and commercial premises. The dangers of disturbing it are real and certainly in the foreseeable future likely to become more elevated as more premises are refurbished and transformed. Hopefully, as the sector sees an increase in work, then now more than ever, asbestos awareness training is needed to remind the NAS members of the dangers of the 'Hidden Killer'. Ask yourself – are you 'Asbestos Aware'?"
Covid19 has hit the construction industry hard, as restrictions are eased and people return to work, it is vital that whilst employers remain focused on ensuring workplaces are Covid secure, they do not forget to review their employees training requirements.
To find a UKATA approved asbestos training provider near you, visit www.ukata.org.uk or for free advice call our team on 01246 824437.
Find a Training Provider
Published on Monday 7th June 2021